If you are new to boxing then this article will be helpful for you, as boxing nowadays is the most preferable and growing sport in India. There are a few things you should know before searching for boxing classes.
Boxing is a combat sport that helps to build your confidence, focus along with self-defense. Besides, the workouts associated with this combat sport help one to shed extra kilos to get fit. Hence, if you are looking to be fit, joining boxing classes will fulfill all of your fitness requirements that you are looking for. below is a list of Top 10 best boxing academy in Delhi NCR, India.
Here is a List of Top 10 best boxing academy in Delhi NCR, India
1. Ultimate MMA & Fitness Zone

2. Spark Kick Boxing Academy

3. Amjad Khan Boxing Training Center

4. Crosstrain Fight Club

5. Knockout Fight Club

6. Manoj Kumar Boxing Academy

7. GSF Boxing Academy for Women Empowerment

8. Najafgarh Boxing Academy

9. Muaythai Boxing Academy & Gym n CrossFit

10. Karate India Organisation (KIO)
1. Ultimate MMA & Fitness Zone
This Ultimate MMA And Fitness zone center is the best center in Janakpuri, Delhi. The Trainer gives you the best training in Delhi. They motivated to trained you lastly it is the Ultimate MMA and Fitness zone is the best center in New Delhi.
So, these are several points on Best Boxing clubs in Delhi to provide you excellent training in Boxing, Martial Arts, Kick Boxing and also act as a Fitness Center to fit your body throughout the day. boxing in delhi – I believe you all must go for this and find a better way. If any Query or Questions please feel free to comment with your viewpoints.
Address: B1 Market, Pocket B 1, Janakpuri, Near Bemisal Reloaded, Dharam Marg, behind Police Booth, New Delhi, Delhi 110058
2. Spark Kick Boxing Academy
Spark Kick Boxing Academy is one of the best equipped Martial arts and also fully equipped Martial arts, where you will find the best professionally qualified trainers and energetic and ambitious to the needs of those who look for the best options to workout. They also provide you the best art of Kickboxing ever from which you can learn the skills of kickboxing and can show your talents in the outside world. This Academy is situated in Kingsway Kamp, Delhi. One of the best fitness centers ever you will find to take the experience.
Address: 2154/ 4th Floor, Outram Lane, Kingsway Camp, above Canara Bank, New Delhi, Delhi 110009
3. Amjad Khan Boxing Training Center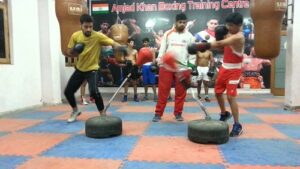 At Amjad Khan Boxing Center, we train the sportsmen for the national and international level competition which also helps the sportsmen to secure jobs in the government sector. We will also make them participate in professional boxing at the national and international levels. We want to make a boxing training center where we could indulge and increase the talent of our youth who do not find the right support to extend their talents. We are also looking forward to introducing the art of boxing to youngsters in our country and into regular school Timings and one must take boxing as a career. We want to expand the Boxing to the other regions where our players can be participating and also enhance their talents.
Address: P4 Basement, Malviya Nagar, Near by Savitri Nagar, Opp. Shiv Mandir, Near Hauz Khas Metro Station, New Delhi, Delhi 110017
4. Crosstrain Fight Club
Cross-train Fight Club is North India's first fully equipped and fully specialization in functioning MMA fight club and training facility. This Club is in south Delhi. Cross-train will give you an opportunity to work with various trainers from national as well as International, who will be experts in their chosen profession. We will particularly be focusing on MMA disciplines like Boxing, kickboxing, and Wrestling as well as on strength and conditioning to make you sure to get into fighting-fit shape. To challenge our programs of the club as well as to work with you to it will help you improve even more. Cross-train is the right fit for you.
Address: Bank of India Building, Guru Virjanand Marg, Budella, Vikaspuri, Delhi, 110018
5. Knockout Fight Club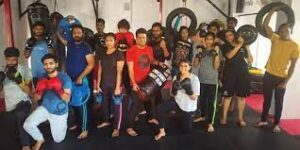 Knockout Fight Club gives you the best mix of a gym workout along with the addition of Kickboxing as an added advantage. Knockout Club is a state of art Mixed Martial Arts training academy in Kalkaji, New Delhi. This Club offers you training like kickboxing classes, self-defense, body transformation program. fight Club is the only club in Delhi that offers a unique way of Parkour training.
Parkour training includes running, climbing, swinging, vaulting, jumping, rolling, and other movements as needed most suitable for the situation. Parkour's training develops training from military training which gives it some source of a non-combative martial art.
This Club also offers Fitness Life Coaching. Through this training, they give you complete knowledge of different tasks and about how to stay fit and healthy. Special weekend activities are also arranged for the members of this club. These are the different activities include Grappling, Wall Climbing, Boxing tournaments, etc.
Address: R-23, Top Floor, Nehru Enclave, Near Nehru Place Flyover, New Delhi, Delhi 110019
6. Manoj Kumar Boxing Academy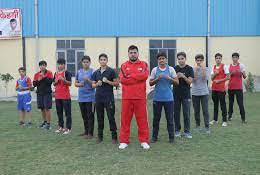 Manoj Kumar Boxing Academy is India's No.1 boxing academy, which came into existance in 2013 by keeping a dream to prepare maximum Olympians for India in coming years. In very short time of span academy shows its committment to produce finest boxers for the state/country. We dream to become number 1 and best boxing academy of India by providing world class training to the young boxers so that these young boxers can bring laurel for the country in future.
we at "Manoj Kumar Boxing Academy" are preparing good boxers, who are taking boxing at new heights. Some of our stars are 2-Times Olympian Manoj Kumar, who is most senior boxer in Indian boxing team right now. Mukesh Kumar is another International Boxer who is 16th time unbeaten state champion from Haryana in 56kg. Now Jitender (JK) is also emersing star boxer in 75kg, He is a national boxer. There are numbers of International, national and state boxers who trained by Manoj Kumar Boxing Academy.
Address: NIT – Kirmach Road, Village Samshipur, Kurukshetra, Haryana 136119
7. GSF Boxing Academy for Women Empowerment
Women empowerment, safety and self defence is possible by Boxing,karate and marshal art.
Girls can protect herself with learning these art.
GSF Sports Academy for Boxing is operated by NIS Certified Professional Boxer Geetanjali. GSF Boxing Academy provides effective, functional and fun programs suitable for all ages, genders & fitness levels in a non-intimidating family orientated environment.
Address:- F-2/161, Street Number 5, Palam Dabri Road, Near Hero Honda Showroom, Mahaveer Enclave, 110045
8. Najafgarh Boxing Academy
Are you ready to burn 800 calories an hour, look and feel amazing and develop legitimate striking skills with our boxing classes? Our specially designed curriculum ensures that regardless of your age, gender, or experience level, our expert boxing trainers will help you grow your physical strength, endurance, boxing skills, and self-defense abilities to extent levels which you have never thought of possible. Boxing has also become a popular fitness trend for people who are trying to lose weight or get in better shape. If you don't believe that boxing is a great workout, try punching something as hard as you can for three consecutive minutes and you'll find out how great of a workout boxing can be!
A great trainer must have a mental and emotional connection with the fighter, feeling what his fighter feels, and being able to see what the fighter is seeing. Trainers don't give up on their boxers, and never let them feel unappreciated and incomplete.
International Certified Boxing Coach (AIBA 2 STAR)

NIS Certified boxing Coach

International Boxing Player

Certified Fitness Trainer

Trained more than 1000 players
Address: Plot no. 271, Roshan Garden, Opposite Naamdev Mandir, Behind Greenland park Najafgarh New Delhi-110043
9. Muaythai Boxing Academy & Gym n CrossFit
Muaythai Boxing Academy & Gym n CrossFit Unit of RAJDHANI ASSOCIATION OF MUAYTHAI (Regd) Recognized by DELHI OLYMPIC ASSOCIATION is dedicated to keep the pure essence and great art of ancient Muay Thai alive, we have our roots coming from Legendry Grand masters of muay thai in Thailand and thus bringing all ancient aspects of Muay thai to you including Muay boran, Muay chaiya , Mix Martial Art and Self Defence it is the same arrival of ancient art from Thailand to India we try our best to adhere to all customs and warrior ritual of Muay Thai. As we are aware that Muay Thai ring fight.
Address: 1st floor Grah Kalyan Kendra, Community Center, Sector 3, Sadiq Nagar, New Delhi, Delhi 110049
10. Karate India Organisation (KIO)
Karate India Organisation – KIO incorporated as a non profitable company under section 8 of Registrar of Companies, Ministry of Corporate Affairs, Govt. of India and established for the overall promotion and development of Karate Sport in India. The overall aim of KIO is to popularise this tremendous Martial Art of self defence "KARATE" amongst youth and growing children of India by conducting training seminars, self defence camps, tournaments etc. at district, state, national, school, university level. KIO is the national widespread organisation with the strength of 28 affiliated state associations and more than 200 approved Karate styles/clubs representing different styles like Shotokan, Shito Ryu, Goju Ryu, Wado Ryu, Shorin Ryu, Budokan etc. KIO is the only National Federation of Karate Sport in India which is affiliated with IOC recognised International Federation, World Karate Federation. Most of the National champions and Internationally renowned Players, WKF & AKF qualified Judges/Referees, Coaches and Masters are associated with KIO. India is one of the major country in the world in Karate where millions of people are learning and practicing the art of Karate. Karate India Organisation"s aim is to produce Asian Games Medalists and Asian, World champions players.
Address:- S-4/42, Janakpuri, Delhi – 110058 (Old Mahavir Nagar, Nr Janak Puri East Metro Station) District Ashok Nagar, district Manak Vihar Village, district West Delhi.
Source: dailylist